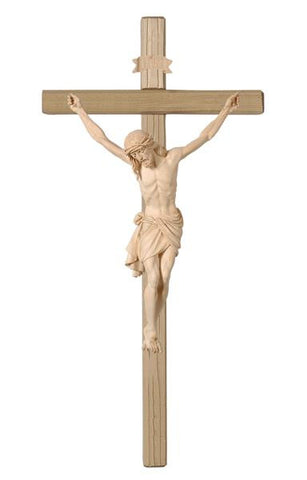 PEMA Siena Natural Corpus on Straight Cross
This crucifix was carved high in the Alps of Northern Italy, close to the Austrian border, a German speaking region which has been highly regarded for wood carving for generations. Craftsman worked carefully to produce these beautiful pieces of artwork for your home or office. This PEMA Crucifix will come with a certificate of authenticity.
Each piece is unique as slight nuances in craftsmanship by the individual carver may be noticeable. Both the corpus and cross are made of solid wood. 
A lighter or darker stain is available on the cross. The picture here shows a light stain on the cross.  A Dark stain on the cross is available. 
This product is available in a variety of sizes. If you do not see the size you would like listed here, please contact us to place a custom order. These can be made to over 18 feet in length. Crucifixes 49" and longer may be shipped in two packages, with corpus detached for safety while in transit. 
To see the hand painted version of this crucifix, visit this page. 
Romans 6
3 Do you not know that all of us who have been baptized into Christ Jesus were baptized into his death? 4 We were buried therefore with him by baptism into death, in order that, just as Christ was raised from the dead by the glory of the Father, we too might walk in newness of life.
5 For if we have been united with him in a death like his, we shall certainly be united with him in a resurrection like his. 6 We know that our old self was crucified with him in order that the body of sin might be brought to nothing, so that we would no longer be enslaved to sin.
---
We Also Recommend
---