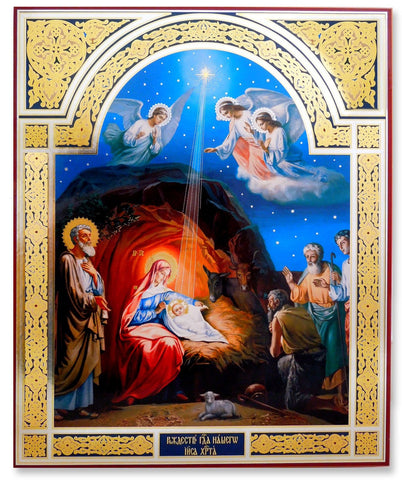 Nativity of Christ, Large Icon 15 7/8"x13 1/8" - The Virgin Shall Conceive and Bear a Son.
This authentic Russian Icon contains an image of the Holy Child together with Joseph and Mary. The shepherds and angels are also present, and a small lamb is laying before the Christ Child. "Behold, the Lamb of God that taketh away the sins of the world!"
This Icon is available in two forms: 
1. Mounted on 3/4 inch thick wood.
2. Mounted on hardboard and framed in wooden frame under glass. 
Contains a slot or hook in back for hanging. 
Size: 15 7/8"x13 1/8"
Made in Russia 
The Magnificat, Luke 1: 
46 And Mary said,
"My soul magnifies the Lord,
47     and my spirit rejoices in God my Savior,
48 for he has looked on the humble estate of his servant.
    For behold, from now on all generations will call me blessed;
49 for he who is mighty has done great things for me,
    and holy is his name.
50 And his mercy is for those who fear him
    from generation to generation.
51 He has shown strength with his arm;
    he has scattered the proud in the thoughts of their hearts;
52 he has brought down the mighty from their thrones
    and exalted those of humble estate;
53 he has filled the hungry with good things,
    and the rich he has sent away empty.
54 He has helped his servant Israel,
    in remembrance of his mercy,
55 as he spoke to our fathers,
    to Abraham and to his offspring forever."
---
We Also Recommend
---